Introduced: 07-06-2012
Your ideas to improve our society ... attend as a guest to the Campus Party Europe in Berlin.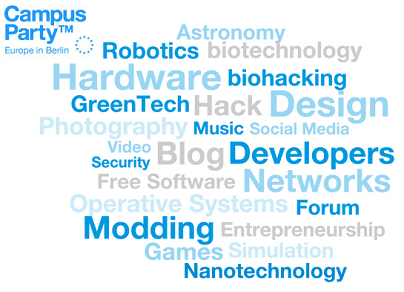 We have an objective: "Retype Europe's Source Code" and we want to get as many Europeans involved as possible so they can propose their best ideas and take part in Campus Party Europe in Berlin. We know that Europe is a big place and Berlin isn't close to all of you, and for these reasons we have devised a plan that, without a doubt, will be the biggest mobilization of European geek talent in history.
Campus Party, Telefonica O2 and more than 100 universities and partners across all of the European Union, under the patronage of the European Commission have created "TheBigThink" to bring half of the campuseros that will attend Campus Party Europe in Berlin to the event free of charge.
If you want to attend Campus Party for free, you need to present an idea. Our challenge is to put together ideas for the European Digital Agenda from the following five categories: Youth Unemployment, Aging Well, Entrepreneurship, Health and Internet Rights. The authors of around 5,000 of the best ideas will be invited to attend the biggest technology festival in the world with transportation, entrance ticket and accommodation all included. In most cases, winning campuseros will depart in buses from the university campuses of our partners or from the sites of our non-university partners.
Deadline: June 30th
You will find more information in the event's website.The Big Think